Administrator
Posts: 988
Joined: Fri Jun 22, 2012 10:00 pm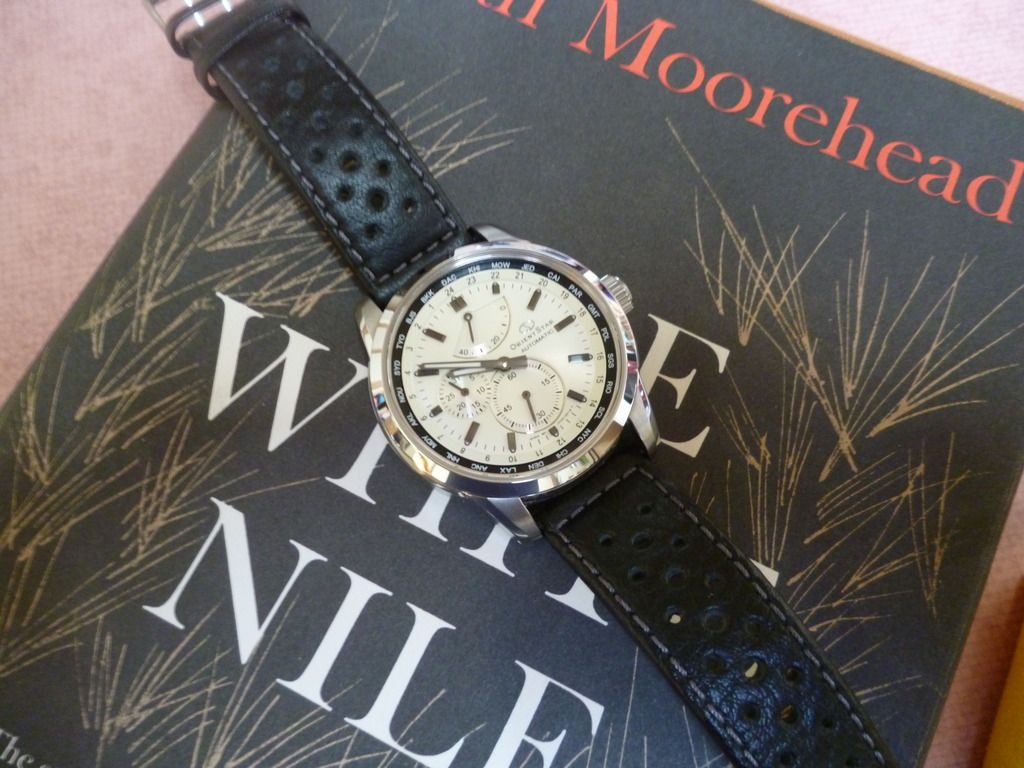 It's 9:51 PM in Cairo. I've got an uncle in Cairo. He's a chiropractor! Nyuk, nyuk.
Orient watches, based in Japan, is said to be the largest manufacturer of mechanical watches in that nation. It started back in the 1950s, and since then has become a wholly owned company by Seiko. Orient Star is their mid-level line, between the standard Orient brand and the luxury Royal Orient line. Orient made a few world timers (watches that allow the wearer to check time in any of the world's 24 time zones at a glance) some years back--I owned two of them, and they were very nice indeed. Now, OS has released (two years back, I think) a brand new model, and I got one, and it's the greatest thing since sliced bread: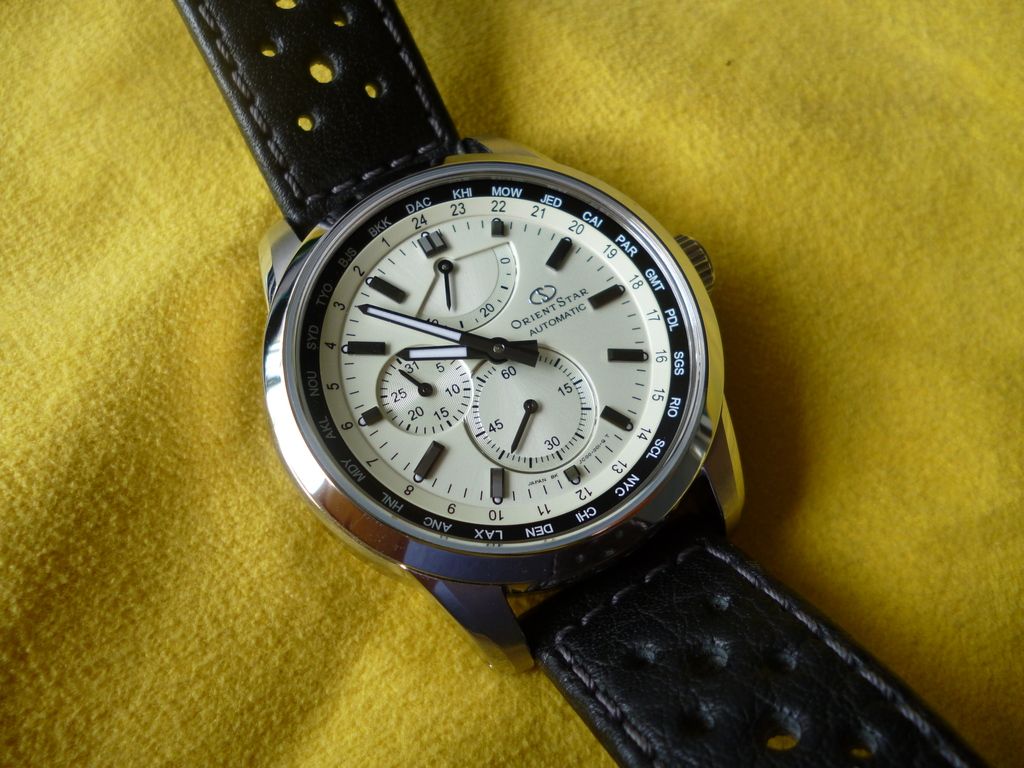 Called the WZ0031JC, it was released back in 2014 as a Japan Domestic Market model, and as far as I can tell, it isn't available in North America, as most Orient Stars aren't. I got this one a few months back from Seiya Japan. It uses the 40H60 Orient manufacture automatic movement that both hacks and handwinds--a nice improvement over previous Orient WTs. The case is classically sized at 41.5mm across, 44mm with crown, 13mm thick, and 48mm end to end. Lugs are 20mm.
So OS got the size right; as I get older, I really don't like big watches that much and especially a watch like this, which can do double duty as a sports watch or something to wear to a funeral. What else did they accomplish?
The dial is superb; it's a subtle cross between a linen color and champagne. With all the complications on this watch, OS did a fine job in making it not appear too busy. It's got a power reserve indicator: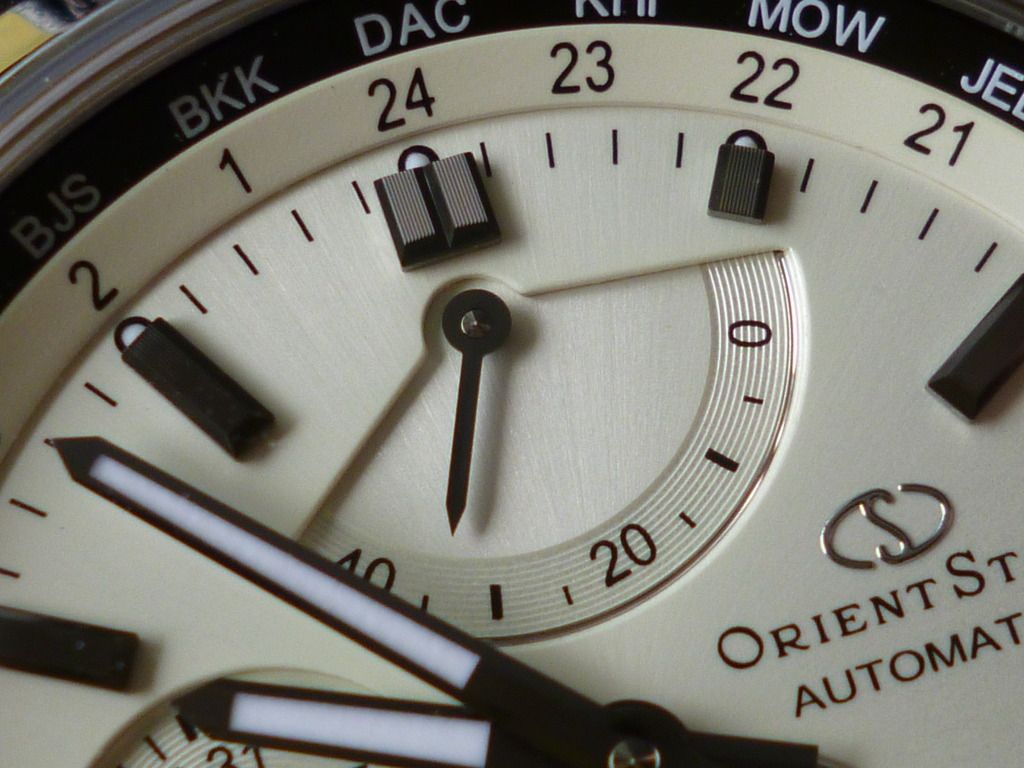 A date subdial: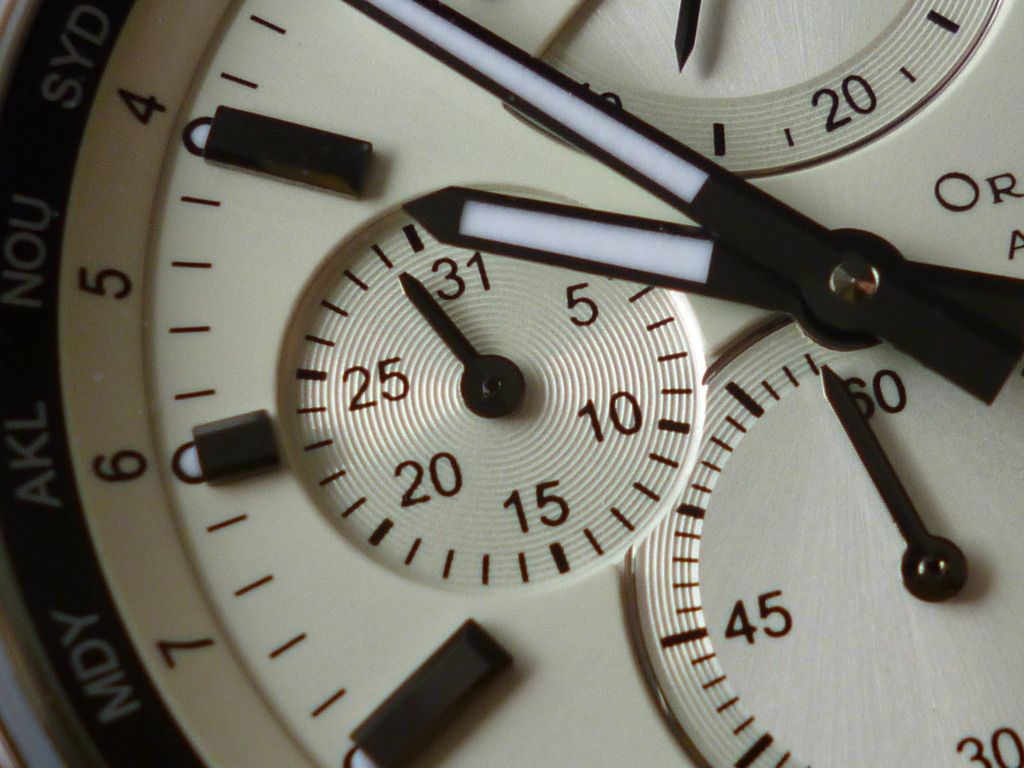 And a small seconds: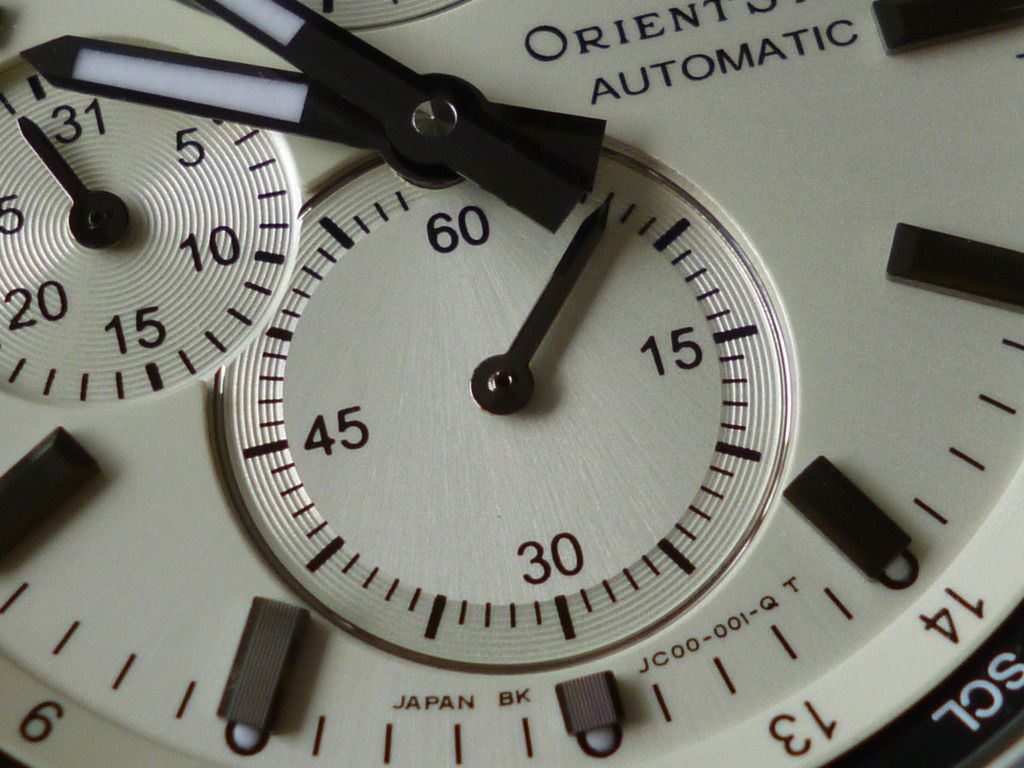 Also, the world time complication is understated and elegant, just like the rest of the dial; the 24 hour scale is fixed, and the disk that tells city codes rotates just outside of the chapter ring once every 24 hours: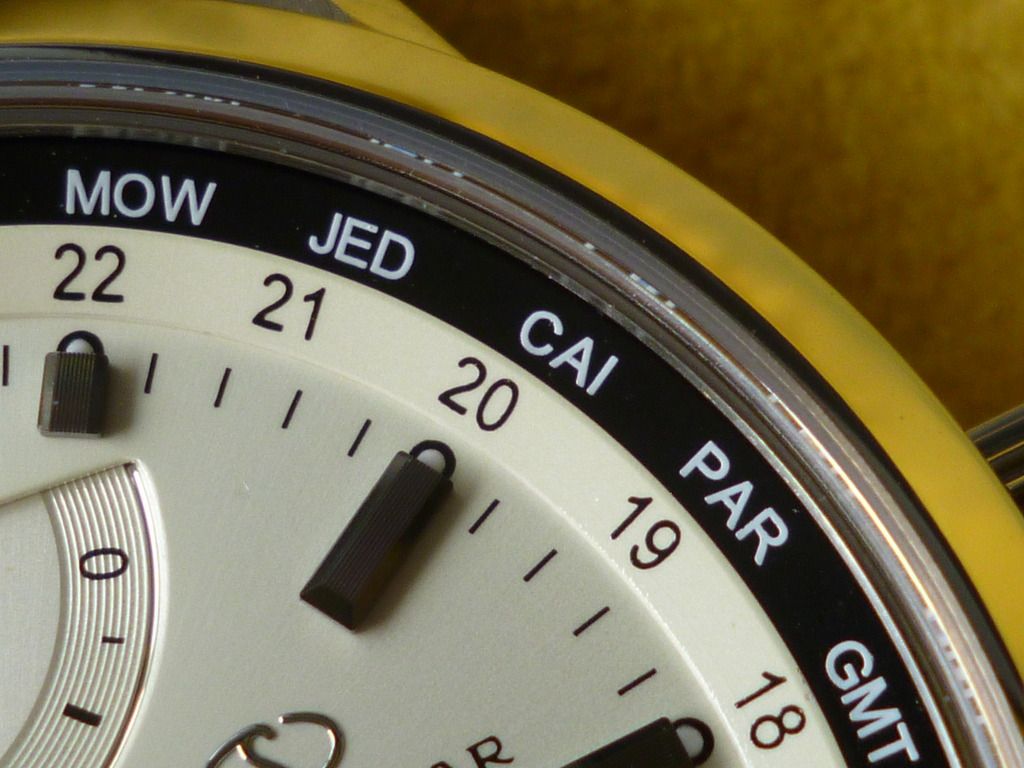 What OS nailed is making the WT function kind of slip into the background. It's there, and (with proper lighting) easily legible. If you're not looking for it, it's subtle enough not to call attention. The markers are all applied, and the handset is beautiful as well, with fine polishing and beveling: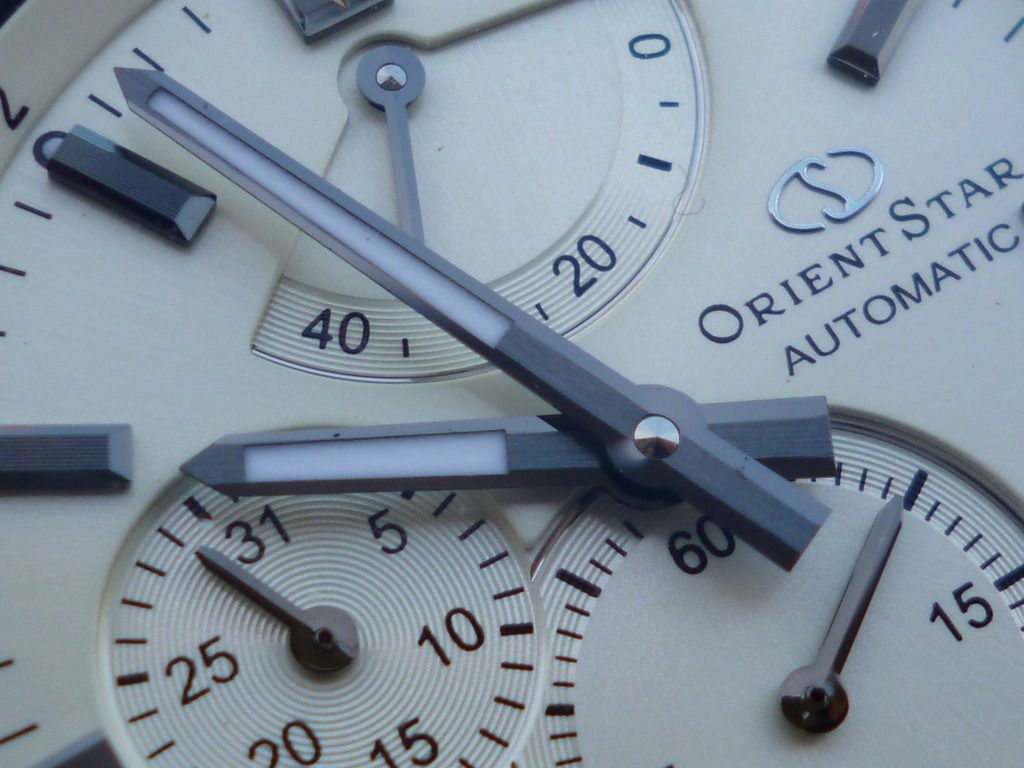 The WZ0031JC uses Orient's new SAR coating on the sapphire crystal, and it's fine--the glass almost disappears and the dial is perfectly clear. The crystal rises slighly above the high-polished bezel. All in all, the dial is readable, clear, functional, and elegant.
The rest of the case is also elegant, with razor-like machining and a variety of brushed and polished finishes: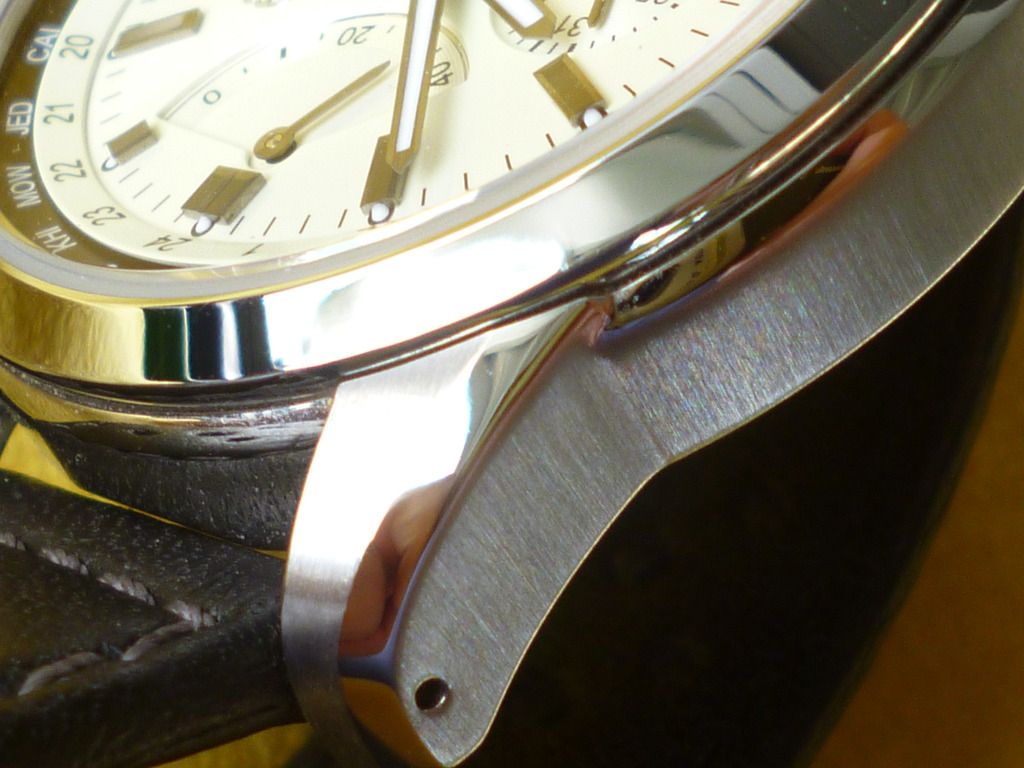 The back of the watch, protected by a mineral crystal, shows the movement: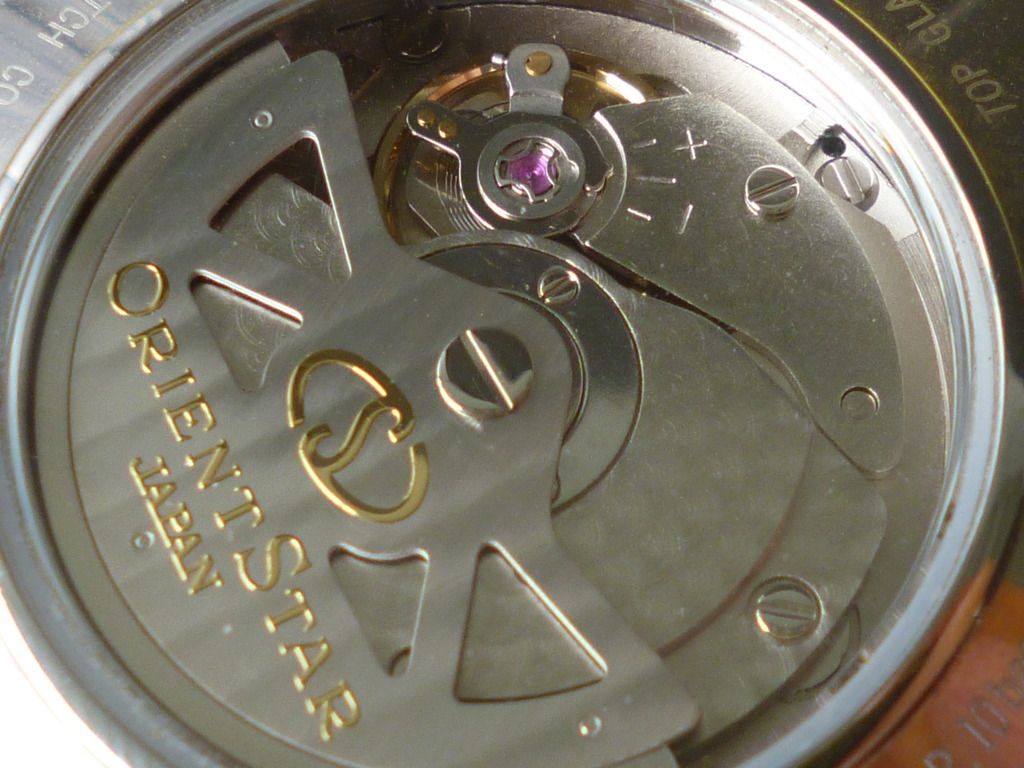 The rotor shows nice
cotes de Tokyo
, fine (although shallow) perlage on the bottom and middle plates (that I was unable to photograph very well). My old Orient Star GMT had better executed decoration, but it's better than one normally finds on a lot of Chinese watches. The movement beats at the standard Orient 6 beats per second. Timekeeping is excellent, at about +4 seconds a day on the wrist (or on the nightstand, face up, for 8 hours.) Unfortunately, the movement shows some wild variation when allowed to run down to below half power, which is endemic with Orient mechanical movements. As a daily wearer, this shouldn't be an issue.
On the wrist the WZ0031JC fits fine: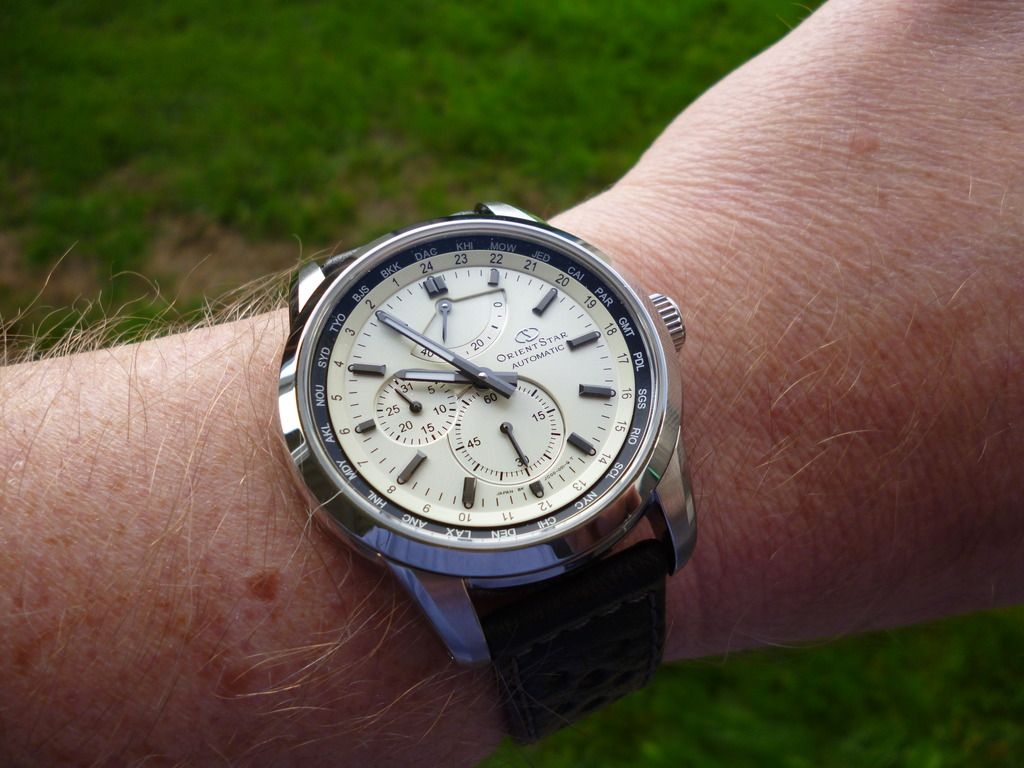 One major issue with this watch is the supplied strap--which I took off after a couple of days of wear and replaced with the DiModell Rallye I have on it in the pics: out of the box it looks great, a light brown crocodile number with a nice OS signed buckle. It's easily one of the worst straps I've worn, and I've owned some pretty bad ones in the past. It's too thick, very stiff, and honestly life's too short to wear the thing in discomfort for a couple of weeks to break it in. Orient should have done a better job on it. This watch, BTW, is offered with what I'm sure is a very good bracelet, but not with the linen/champagne dial (dial colors are black or blue). If not having the linen/champagne dial is OK with you, spend a few extra bucks for the bracelet model.
All Orients (and Orient Stars) are usually dripping with value compared to Swiss counterparts (especially JDM models, with the yen so weak against the dollar) and the WZ0031JC is no different. If you're looking for a Swiss brand that offers a power reserve, a manufacture movement, and a world time complication, you'd better cash in some of your 401(k)s, because you're not likely to find one under three or four grand, if not a lot more. How much did I pay for the OS WT? About $850, including Seiya-san's normal lightning-fast shipping to the West Coast.
In its favor, the WZ0031JC is a superb watch, with beautiful finishing, dial work, handset, and COSC accuracy (above half-wind). Cons include a revoltingly awful strap, and wild time variations below half-wind. The date dial might be a little difficult for some to read, but it wasn't bothersome to me (and I need to update my bifocals.) The world time function is fine for world travelers, but it's also just a cool complication, perfect for armchair travelers like me (hence the picture and Stooges gag at the top of this review.)
While some say that Grand Seiko is the brand to conquer the Swiss, Orient Star's really, really close. For those who want a mechanical watch that whispers luxury and screams value, look no further. The Swiss have been bested.