Founding Member
Posts: 1170
Joined: Fri Mar 01, 2013 11:00 pm
I picked this up in Dec.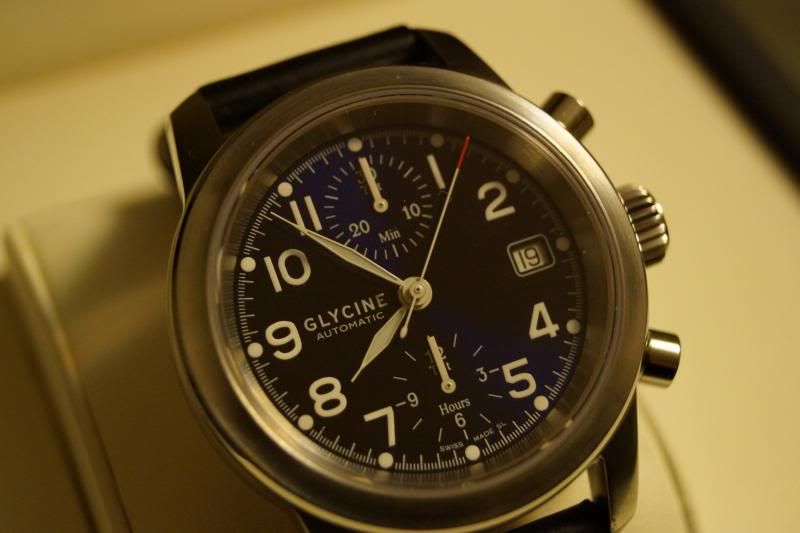 It's an ETA 7750, 25 Jewels, Swiss Made Glycine Ningaloo Reef.  
A stainless steel case that is 40mm, a great look on the wrist.  There are no rough edges on this, it is smooth all the way around.  
The thickness is 15mm, I thought it might be a little thick at first but it goes well under long sleeves and isn't a bad height at all.  Then again, I am used to wearing thick divers, so I guess 15mm was a nice change.  
The 101 gram weight is very light, I hardly notice it being on until the, stiff, leather band begins to irritate my wrist.
Sapphire crystal is nice, the watch reads well from various angles.  
Water resistance is 330 feet, but I seriously doubt I will be taking this swimming.  Nice to know that it can take a rain though.  
The blue dial is a very nice blue, it is a nice subtle blue, but at angles it shimmers.  It is an easy to read watch, not a cluttered look, in my opinion.  
It seems to keep good time, it's hard to tell if it's spot on because of a lack of a regular seconds hand, but it seems to keep pace with my IPhone time.  
The hands are easy to read, I like the size.  The chronograph buttons are firm, so there shouldn't be a problem with and accidental push.  
The leather band is going to have to be replaced, it is not comfortable. I thought once it was broken in it would work out, but it is still stiff and difficult to tolerate.  I don't like the tang buckle, I am going to have to get a deployant clasp when I get a new leather band.  I am thinking of a nice leather band from Diaboliq, I'd like to get a mesh bracelet for it too.  
I think it is a keeper, I got it on WOW for like $430.00 after a couple of codes.  I thought it was an insane price so I got it.
It's easier to fool people than to convince them that they have been fooled.