Moderator
Posts: 1051
Joined: Sat Mar 31, 2012 10:00 pm
So here is my review of the Halios Tropik B grey dial after one year of wear. The fact that this watch has such staying power is really a testament to its design details and overall wearability. I'm a bit of a chronic watch flipper. Generally every watch I have bought sight unseen will eventually find its way to the sales forums.
This one was pre-ordered from Halios. I found Jason (Haliso owner/designer) to be extremely forthright, and great with communication. The company has a spotless customer service record, so I had faith in my pre-order. Between personal emails and Facebook Halios posts, every customer was kept well appraised of the production progress.
Watch Specs from Halios:
Specifications:
Case material: aluminium bronze; crown and caseback: 316L stainless steel
Dimensions: 41mm width, 14mm thickness, 48mm lug-to-lug, 22mm lug width
Vintage domed sapphire crystal with underside AR coating
Japan-made Miyota 9015 automatic movement
300M water-resistance
BGW9 (blue) Superluminova-coated hands and dial markers for optimal low-light visibility
Here are my quick and dirty photos from WL taken the night it arrived: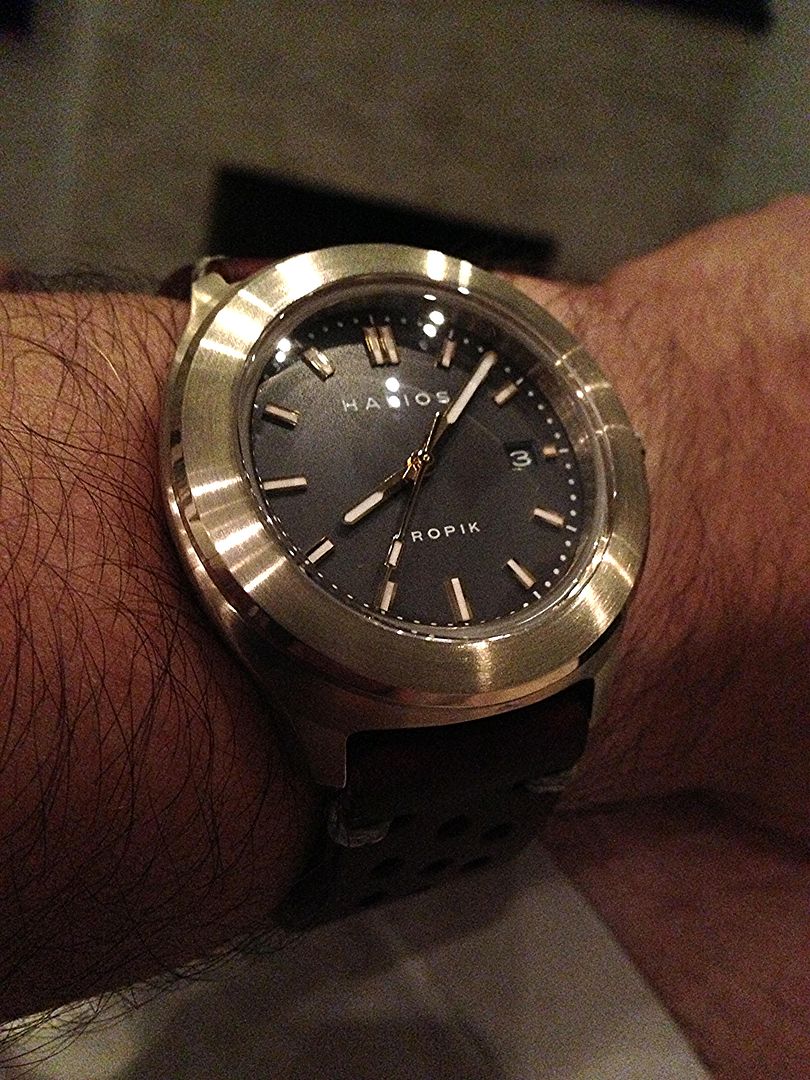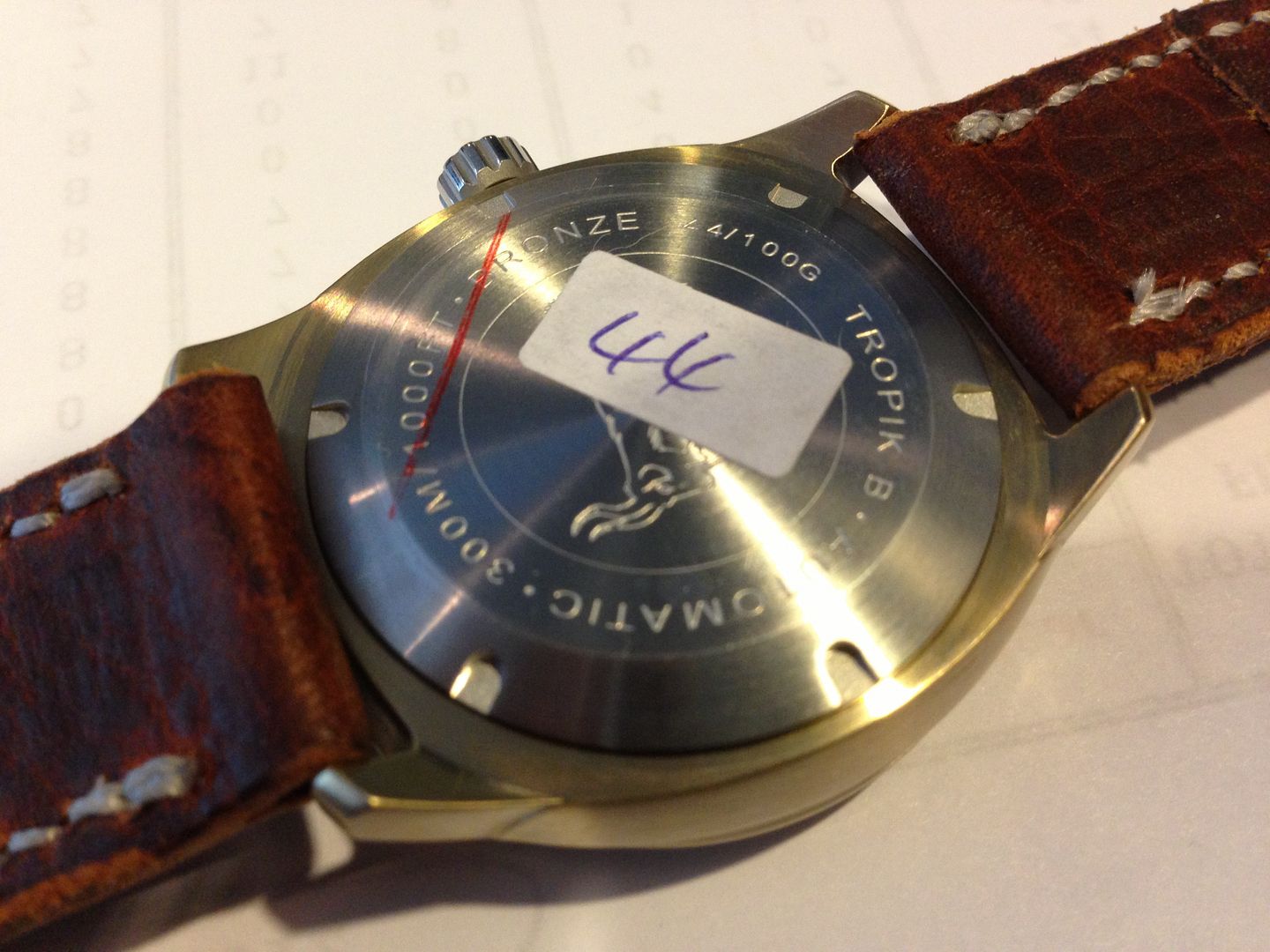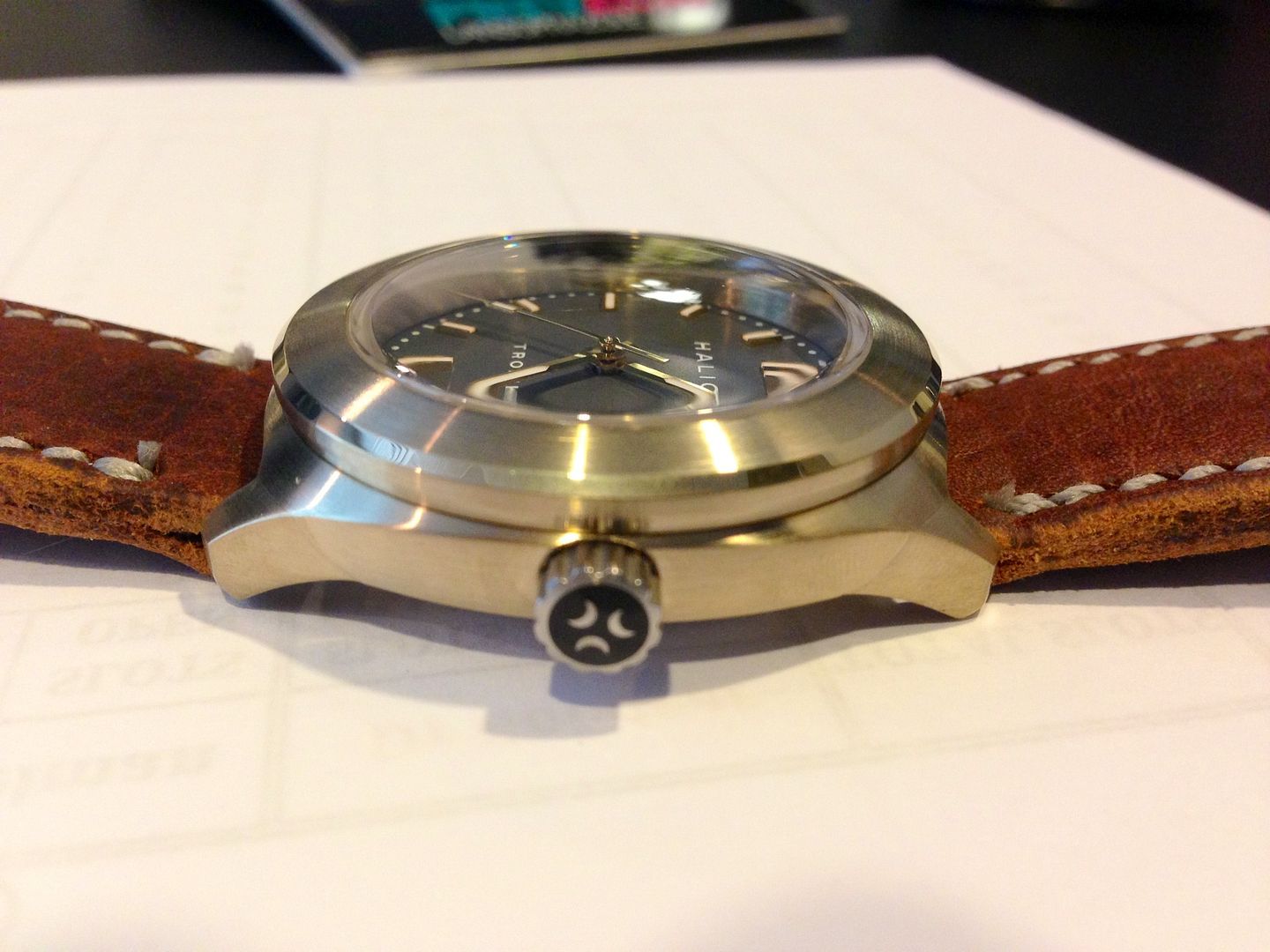 As you can see, the bronze (and I'm not sure which chemical equation formulation they use) has more a warm gold appearance. It does not have the red/rose/pink overtones that are seen with brands such as Helberg. The watch came with two high quality, albeit rustic, straps from Halios. I eschewed these for a Teenage Grandpa Ox blood strap and a Heuerville rally. The 22mm lug width opens the watch up for too numerous to count aftermarket strap options.
At the time of release, the matching bronze buckles had not been produced. Apparently there were problems with the material and or supplier. 10 months later, two bronze buckles were faithfully delivered, giving my buckle-matching-watch-OCD a welcome relief.
I have never allowed too much patina to form on the case, as I prefer the brighter/warm appearance of the case right out of the box. To maintain the finish, I would coat the watch in standard toothpaste. Allow the paste to dry for an hour, then scrub it off with a soft bristle toothbrush. Here is the watch today:
along with its strange Mer-Goat engraved case back:
A detailed close up of the underside of the lugs shows how the case would look if it didn't receive periodic freshenings:
As far at the bronze goes, it has been satisfactory with one small exception. I am generally very easy on my watches. If one of them sustains a significant scratch or ding, I'm usually aware of it the moment it happens. The Tropik showed up one morning with noticeable road rash, which left me scratching my head as to when it happened. ( I did wear it to a party where homemade Apple Pie Moonshine was the drink, so I may have been too over-served to notice when the offending injury occurred.)
I quote my description of the Miyota 9015 movement from WL:
Winding action seems a bit weak and thready when compared to the more solid feel of a 2824. Rotor can be heard spinning and will wobble like a 7750. Keeps an adequate power reserve for my purposes. Time keeping seems good but I've never measured it for accuracy. I've never cracked open the back to look at the movement.
I don't have a lume shot. Take my word for it, it is very pretty. Although the lume markers are very skinny and the glow seems very short lived compared to the industry standard Seiko torches.
Overall I am very pleased with the watch. It has a vintage flair without the vintage headaches. The size makes it wearable on a daily basis. The only circumstance I can see to flip it would be if the hinted upcoming Tropik B Series 2 has a dial color or design that blows my mind.
Thanks for reading!