Posts: 10
Joined: Fri Mar 29, 2019 10:48 am
At the discretion of the author it might be a good idea to post the full text of the following at BDWF - you know, for posterity and stuff.
https://www.watchlords.com/forum/viewto ... 4&p=437652
This article was originally posted on BDWF in 2010; Alain thought it might be funny to save it from the slowly dying forum, and since the photobucket links still seem to work, I thought, why the hell not?

Basel, Schmazel. We all know where the action's at in the world of horology, and it ain't in some toffy-nosed canton in the middle of Europe where they can't decide if they're French or German. Times have changed and I am not trying to hurt feelings here, this is satire.
I got a call from Eyal last week, asking if I wanted to tour his uber-new factory for Invicta, the Technica Swiss Ebauche (TSE) facility. Since I was burning some vacation at the time, I naturally jumped at the offer; Eyal landed at Sea-Tac in his specially-modified Gulfstream G-5, the
Subaqua Noma One
, I was put into a drug-induced coma, and we were on our way!
The Subaqua Noma One. A beautiful aircraft, but the paint job on the vertical stabilizer really sucks.
Once I came out of my shallow coma, I had found we had landed. I was surprised, because there wasn't a Swiss person to be seen at all. I was in awe of the TSE factory:
The TSE factory. As is usual, Eyal's commitment to the environment is perfectly clear.
A short history is in order at this point; TSE started out in Switzerland, staffed by barely-literate young women whose fingers had been bound so they would remain small enough to get inside pocket watch cases. Here's a contemporary illustration of the less-than-utopian working conditions:
The origins of Invicta. The gentleman in the center of the illustration is believed to be Michael Davis's great-grandfather.
Anyway, the workers at the TSE factory are extremely happy with their lot in life:
Here some Invicta employees enjoy their khat-break.
Life is well regimented for Invicta employees. Here they stand at attention to hear the memo that they must, in the future, wear yellow workclothes.
Certainly, there is trouble in the form of a few bad apples. A certain amount of labor unrest is natural among such highly skilled artisans: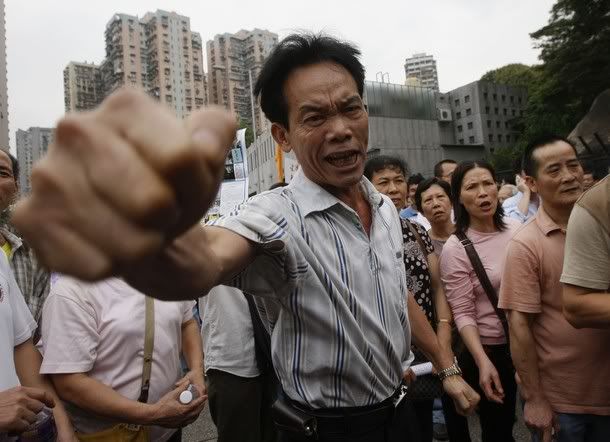 This fellow is angry because the birthday card he sent to Eyal was lost in the mail!
However, working conditions at the factory have become much improved; here some watchmakers enjoy the very ergonomically designed Rubbermaid stools:
Also, Eyal provides many amenities for his watchmakers, including public transport:
As well as free daycare!:
And should any watchmaker labor too long, the Invicta Loss Prevention staff is on hand to escort them to their rickshaw--er, private vehicles at the end of the day:
Unfortunately, the work at the factory when we visited was centered on Invicta apparel instead of watches. Here, some highly-skilled slave-laborers--er, watch-technicians--put the finishing touches on a new shipment of Invicta Sand-Blaster footwear, soon to be shipped to the horn of Africa:
Afterwards, Eyal and I went to dinner at a local Communist-Party-People's-Eatery, where we dined on small Swiss rolls garnished with Spotted-Owl-Liver pate. As usual, it was the end of a perfect day.