Ocean

(Online)

Founding Member
Posts: 1369
Joined: Sat Mar 31, 2012 10:00 pm
Since posting the fall preview I have been meaning to get to Tutima as a WBOTD.
http://www.tutima.net/en/content/home
Glashütte: where it all began
The history of the Tutima brand began in Glashütte, a mythical city of horology whose name is known all over the globe as a byword for the best and most exclusive timepieces in the world. And a place in which Tutima is now once again present with a subsidiary, an exclusive production workshop in a building listed as a historic monument: the old railway maintenance depot in Glashütte. It heralds a new era in the history of Tutima, right at the very heart of the German art of watchmaking.
d
The name Tutima derives from the Latin word tutus, tutissima, which means "safe" or "protected." The choice of brand name was fitting for timepieces guaranteeing precision and reliability. In an age when nothing else was certain, Tutima watches unfailingly lived up to their name, advancing steadily to success right in the midst of a global recession.
Apart from its claim to deliver an exceptional quality standard, the brand also owed its success to the tenacity of founder Dr. Ernst Kurtz and his sure instinct for the demands of the market: when in early 1927 UROFA (Uhren-Rohwerke-Fabrik Glashütte AG) and UFAG (Uhrenfabrik Glashütte AG) commenced operations, they were the harbingers of the modern era of the wristwatch in Glashütte.
In 1951, Dr. Ernst Kurtz transferred production to the present location of Ganderkesee in Lower Saxony. Despite the difficult economic situation at that time, this was the first step toward full revival of the Tutima brand.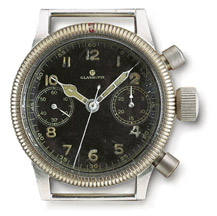 The original: the Tutima Flieger Chronograph developed in 1939/1940 outfitted with addition stopwatch and flyback functions. UROFA Caliber 59.
A classic: The legendary Tutima Flieger Chronograph
Viewed from above, many things look different — and better. A pilot's watch can only demonstrate its full potential when given the chance to face the challenges it was actually designed to meet. During the first few decades of aviation, absolute precision and reliability were essential characteristics for watches. In an age long before the arrival of the fully electronic, computer-aided flight deck, the quality of a pilot's watch was frequently a matter of life or death.